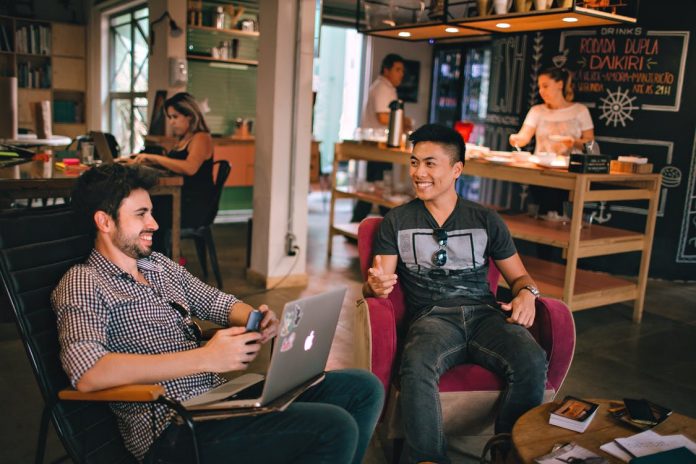 Why should you spend hundreds of dollars a month on a coworking space membership, instead of working in your hotel room for free?
Fast internet's been a selling-point for coworking spaces since the start. And it still is a selling point in developing countries with poor infrastructure.
But as broadband and high-speed 4G/LTE connections become more common, it's becoming easier to find hotel rooms, cafes and bars with internet that's plenty fast enough to write blogs and even upload small files with.
So why is a coworking space a great investment for a digital nomad?
You can find new friends, business partners and even clients at a coworking space.
Building a business can be super-stressful (and exciting!).
Fortunately, the low cost-of-living and rich opportunities to relax or go on an adventure in a country like Bali can help take the edge off things. But you can't quite escape every niggling doubt about whether your strategy and product are on-point.
And friends and family back home can be bemused, or even disapproving of the 'silly' decision you've taken to abandon a 'safe' career – just when you'd appreciate some support.
Becoming part of a coworking space full of digital nomads is an awesome investment in your business and happiness.
Hanging-out and working alongside people who are going through (or have tackled) similar technical and psychological challenges and have skills and knowledge that you don't is super-valuable.
And the bonds you build when you share your entrepreneurial journey and adventures with others can grow deep, pretty quickly.
others taking this strange path
Get free stuff, advice and special offers
Nomads in healthy communities have each other's backs.
Most coworking spaces offer 'skillshares', which are events where members  give presentations about topics we're knowledgeable on. These work two ways, as they give preseters a
In the last month my coworking buddies have given me:
$500+ of plugins.
Free website optimisation.
Help building a payment portal.
Tips on a hidden £65 flight from Singapore-UK.
And most coworking spaces offer 'skillshare' events, with
$300/month seems like a sensible
But remember, it's important to ask for help in the right way. Your new buddy probably enjoys helping people, but if clients are paying him $100/hour+ then there's a significant cost for him in helping you.
Let people know if you're stuck and wait for them decide if they want to offer a solution. Al my help
Communities work two ways, so pay it forward and try to help others out first!
Coworking spaces help keep your work/life balance in check.
Being free to work anywhere is awesome. But blending your work and home life can create two challenges:
Bringing work into your resting space can disrupt your ability to recharge.
Unless your business somehow runs with causing any stress
Having a dedicated work places helps improve focus and discipline.
Home workout routines have a pretty poor success rate. And that's why even movie-stars who can afford to build their own gym often train at Gold's Gym – because a dedicated place for a task helps to improve focus.
Keeping your work time (and even laptop use) restricted to a specific place can help you become more effective at relaxing and working. And most coworking spaces offer a variety of settings, allowing you to find silence, socialising, air conditioning or heat.
Internet (yes, it's still better!)
Sure, the restaurant next door MIGHT have hooked into the new high-speed line.
But if the line goes down (a common event in SE Asia), then any decent coworking space will have dedicated staff working hard to find a resolution, while offering an additional (perhaps lower-speed) backup line.Whereas a restaurant is likely to shrug their shoulders. After all, their main obligation is to serve food.
Building site! 🚧
👷 Alex is building Fringe, for nomads.
✉️ Subscribe for launch updates!
✍️ If you'd like to write for us, get in touch!