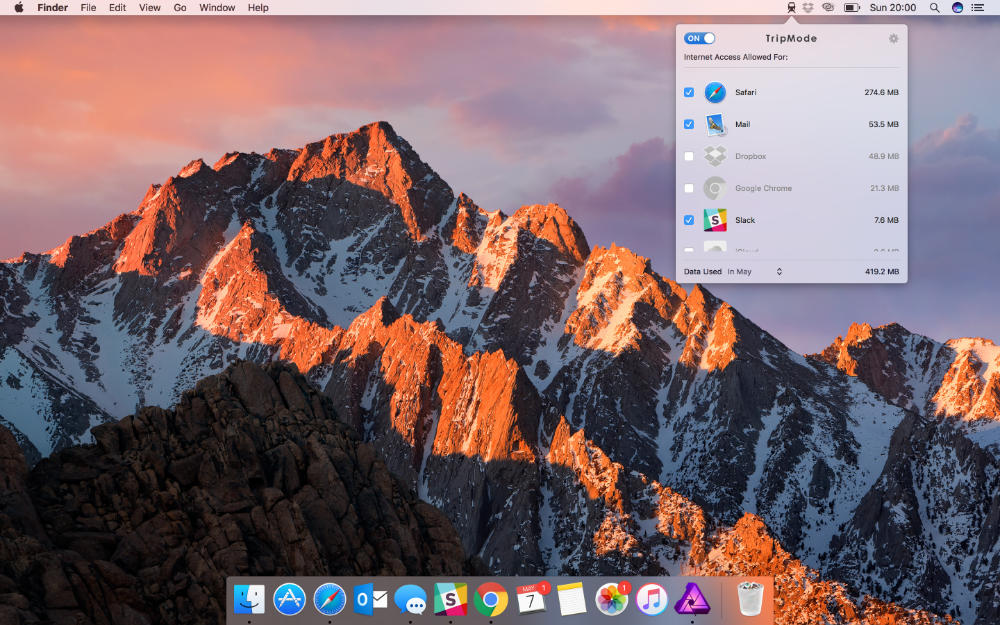 TripMode promises to stop hungry Mac and Windows applications swallowing your roaming data and costing you money – but does it work?
ROAMING DATA SWALLOWS YOUR CASH
Whether you're emailing, browsing the internet, watching YouTube or streaming Spotify, you need roaming data.
But most of us download big films and applications at home, because we've learnt how expensive app updates and streaming HD films on roaming data can be – a single 1-2GB film can easily cost $20 or more.
Even more hungry are background applications like DropBox, Google Drive and iCloud – which swallow tens of gigabytes or more, if they're synchronising applications, photos or (especially) videos.
Imagine a full 32GB card from your GoPro ending up in DropBox while you're using roaming data, somewhere with super-fast, expensive 4G!
ROAMING DATA IS INVISIBLE TO LAPTOPS
Fortunately, mobile devices are getting smarter about the cost of roaming data.  Most bandwith-heavy mobile apps disable (or throttle) roaming data by default. iOS and Android also include tools to limit roaming data use.
However, laptops often receive data from a mobile hotspot, using WiFi – so don't know that their data is mobile and therefore expensive.
Worse, neither Windows or MacOS include inbuilt tools to control data use.
I landed in Sydney earlier this year and purchased a Vodafone Pay-As-You-Go SIM with 10GB of data, to last a full month of internet browsing and YouTube videos – costing $40 AUD.
I popped the SIM into my unlocked Huawei MiFi (mobile hotspot), connected my MacBook via WiFi, ordered a coffee…
…and it's gone!
MacOS Photos had uploaded several hundred high-resolution photographs, while DropBox had discovered some videos I'd thrown into a folder. In under one hour, my entire 10GB pack had been swallowed by Vodafone Australia's moderately fast 4G network.
TRIPMODE CONTROLS YOUR ROAMING DATA
I searched online and found TripMode, a task-bar application that promised to control my roaming data use.
I downloaded the free trial and TripMode appeared on my MacBook's task bar, with a neat dropdown box and button to toggle the app 'on', with a summary of data used in my last session, or the previous day or month.

TripMode turns on automatically if I use my iPhone's data, using USB to tether. However if I'm using my MiFi unit, TripMode has no idea this WiFi connection uses roaming data, so I have to manually activate it.
Turning TripMode on expands a list of all previously-used applications, each with a tick-box to grant internet access and a summary of how much bandwidth each application has used (per session/day/month).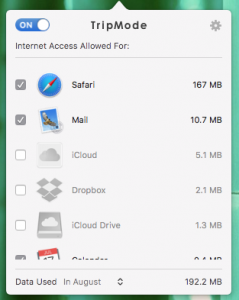 New applications have to be manually granted internet access with TripMode.
You can track each app's consumption and immediately cut its access, if it starts swallowing data quickly. Often you'll find a specific process taking place within the offending app which you might want to manually pause, before granting access again.
TripMode easily paid for itself that day – as I had to buy another SIM, which lasted for a week or more of heavy use.
Aside from reducing roaming data costs, using TripMode to identify and disable data-hungry apps lets you prioritise YouTube, Netflix or other services which can struggle when sharing a slow connection.
TripMode is only $7.99, available for MacOS and Windows – and is honestly a no-brainer for anyone who travels with a laptop.
What tips do you have, for finding fast, cheap internet when you travel?
Building site! 🚧
👷 Alex is building Fringe, for nomads.
✉️ Subscribe for launch updates!
✍️ If you'd like to write for us, get in touch!