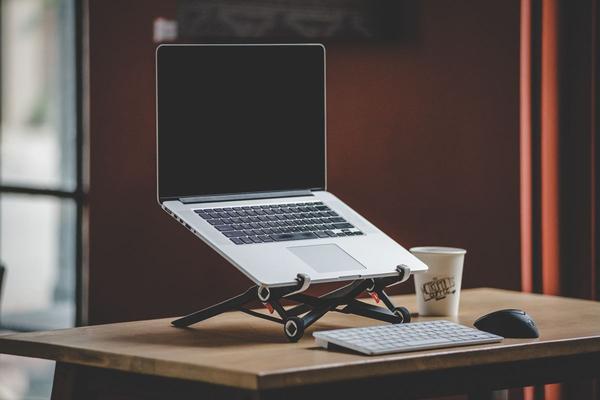 Roost is the space-age laptop stand with some serious hype – but does it deliver?
Digital nomads have fawned over the Roost laptop stand, ever since it smashed its $475k Kickstarter goal by over $300k.
What's so special about the Roost laptop stand?
The folding laptop stand is insanely strong, sleek and light – weighing only 170g and folding into a 13-inch stick that slips easily into any rucksack.
Roost was designed by an aerospace engineer for Lockheed Martin, so its exotic design – with glass-fiber reinforced Nylon, a structural metal-replacement polymer, and Delrin high-performance resin – makes sense.
Reviews have consistently highlighted the svelte footprint and mass of the Roost, as well as its rigidity. Our MacBook Pro sits in place as the stand's tipped 45 degrees, just as the promotional videos illustrate.
Does the Roost laptop stand do anything more than save weight?
However, as convenient as the Roost is to carry, surely all laptop stands do the same thing once they're unfolded?
Actually, Roost offers a great range of heights – which help strength its advantages over any competitors.
The three slots for Roost's height adjustment may only sit a centimetre apart at the base, but the increasing angle with each position creates an actual laptop lift between 6 and 11 inches – easily lifting my 13″ MacBook screen to eye height from the middle position, on most tables.
Given that using a laptop stand requires an external keyboard and mouse, I had anticipated spending $400 for Apple's Magic Trackpad and Keyboard set – as I use loads of trackpad gestures.
But I was delighted to discover that as the Roost sets my MacBook at an angle which allows easy access to the trackpad for gestures, I can instead use the $90 Logitech K380 and M337 bluetooth keyboard/mouse set.
I now enjoy the accuracy of a mouse for graphic design and the K380's ability to switch to typing on my iPad and iPhone, while seamlessly doing pinch-to-zoom and four-finger swiping on the MacBook's inbuilt trackpad – giving me the best of all worlds!
Building site! 🚧
👷 Alex is building Fringe, for nomads.
✉️ Subscribe for launch updates!
✍️ If you'd like to write for us, get in touch!